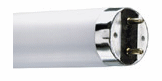 Sylvania FO25T8 fluorescent light bulbs is the 36 inch T8 for energy efficiency.
T8 lamps generically have become the standard for almost every new light fixture on the market today. Most come with the ballast that operate these lamps and have become the largest replacement lamp in America. Because of energy efficiency improvements in many buildings, the Sylvania FO25T8 fluorescent light has been a common choice of lighting designers. Over the years, many companies have switched to these lamps used with electronic ballasts making it the most efficient lighting system possible. These bulbs have a narrower diameter than the old type T12 which were 1.5 inches wide, the Sylvania FO25T8 is only 1 inch in diameter. Sylvania developed these for energy efficiency and there are many different brands of ballasts and all function to make the lamp start and continually operate, supplying the right voltage in each individual lamp. These lamps are 3 feet long, which is a 36 inch overall length making it possible to use them in task lighting and some types of overhead lighting.
The Sylvania FO25T8 Octron fluorescent light bulbs are probably one of the most popular, but others like General Electric and Philips and other third parties make them as well. There are color choices for any type of interior you may have in which include 3000K, 3500K, 4100K or the 5000k which many people refer to as full spectrum light or daylight color. For most offices, the 4100K and 5000K has been the most popular as a clean, white light, good for all general purposes. The 5000K is really for people who want to function better under artificial light and is similar to natural sunlight in color. It's easier to work under an produces light the way our eyes naturally use it. It's truly a great improvement over older types of lighting and even some of the more yellow color choices available today.
The Sylvania FO25T8 fluorescent light bulbs are a perfect solution to get good color rendition while saving energy at the same time. If you are a retail store owner, you'll find that these lamps are great to bring out color and will naturally draw people to the product you're highlighting. Even if you don't have a special situation, you'll like the way these lights make skintones better, more natural. Call us if you have any questions about these lamps and the proper application of the light they produce.