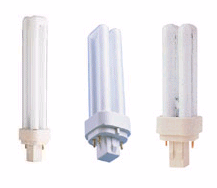 Sylvania Dulux D compact fluorescent light bulbs from BuyLightFixtures.com.
Sylvania Dulux D compact fluorescent are a type that is much like the old small twin tube lamps only they double up on the number of tubes. Sometimes they are referred to as double dulux lamps in the field. They have a diagonal 2 pin or a square 4 pin construction on the base. It makes it so nothing else could really be plugged into that fixture. Some of the fixture types that use the Dulux D lamp include recessed lighting, hotel lighting and many more too numerous to mention. These lamps are very energy efficient and operate on electronic ballasts and the 4pin version can be dimmed with the right ballast combination. With the Sylvania Dulux D compact fluorescent light bulbs, there are many options for superior light control like flood lights or wall washers used in retail. The most common colors seem to be the 4100k or the 3500k color.
Sylvania has been one of the major manufacturers of these types of lamps for many years. The energy efficiency on the lamp is excellent and they're used in places where the fixture might be very tight. The energy efficiency is so good that they sometimes are used in certain kinds of recessed lighting or other kinds of high output types of light. As mentioned before, there are several color choices these come in which include 3000K, 3500K or 4100K which many people refer to as office lighting. There are appropriate places for each type of color depending on the interior you have. If you need a warmer feel that accent natural colors like wood or plants, the 3000K or 3500K would probably be the best to use. It will maintain and make those colors look even better. For offices, the 4100K has been the most popular as a clean, white light, good for all general purposes.
It's a great all-around lamp and the life is excellent plus the color rendition is also very high so that whatever it lights looks very good. That's why many retailers also use this lamp for many kinds of situations where product highlights are very important. GE and Philips also make the lamp and the variations are slight and sometimes the colors don't match up exactly. Sylvania Dulux D compact fluorescent light bulbs operate on an electronic ballast which keeps the lamp operating an optimal temperature and voltage. If you have any questions about the Sylvania Dulux D compact fluorescent, please give us a call for more information.