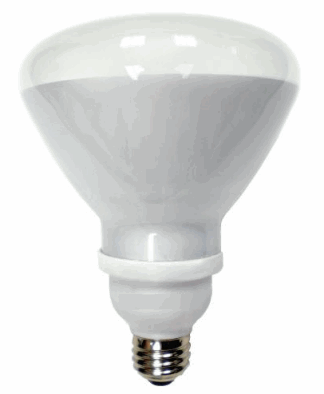 R40 compact fluorescent flood light bulbs that deliver energy savings and great light too.
This large size flood is used many times in track lighting or recessed lighting and sometimes is referred to as BR40. Because of the pervasive nature of this lamp, it only makes sense for manufacturers to develop a compact fluorescent version for energy savings and better lighting too. Because the R40 compact fluorescent flood light bulbs are just the right size for many types of areas including retail and track lighting, that means that people will be able to get the energy efficiency they want without having to sacrifice light output. These have a 5 inch diameter on the face of the flood and provide an even distribution of light for an area. These are the largest of any of the flood light bulbs used in these types of lighting applications. These are rated at 8,000 hours which means they'll last at least five time as long as the average retail store bulb. Along with longer life, the R40 bulbs come in 25 watts which will replace the 100 watt incandescent flood.
R40 compact fluorescent flood light bulbs can be used any place you can use a standard incandescent, except for dimming applications. These are not dimmable and must NOT be used with a wall dimmer of any kind, in that situation, it could start a fire. If you're interested in dimming types, there are other compact fluorescents that can be dimmed, but this isn't one of them. Many people are now using this in these types of application with the more natural daylight color. The daylight color removes many of the offensive yellows of standard incandescent light and replaces it with a white, natural color. It's easier to work under because it produces a light the way your eyes naturally use it. If you're a retailer and you're looking to present your product in a better light, then these would be a good choice for your track lighting or ceiling lighting. Not only will you get a better presentation, but you'll save up to 75% in electrical costs. The general look of the spaces you light with this lamp will change and have an appearance unlike anything you've seen before.
So if you have a home or business recessed lighting application and want to get energy savings, then these R40 compact fluorescent flood light bulbs might be an answer for you. In both the smaller sizes and the larger sizes of floods, these all have the same great white light which should give years of service in the average home and business. We stock these in sufficient quantities to mean any need that you may have whether large or small.