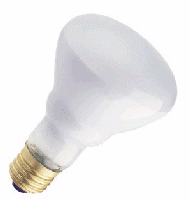 R25 flood light bulbs for use in specialized fixtures slightly smaller than standard R30.
Sometimes there are fixtures that are specialized for certain kinds of tasks and that's probably true of track lights that use the R25 flood light bulbs. Some manufacturers of track have wanted a smaller head size while still maintaining the look of a traditional track lighting fixture. The diameter at the face of a BR30 is 3 3/4 inches and the R25 is 3 1/8 inches. The difference is small but some types of fixtures require this lamp only. You'll know if you have these kind of fixtures because nothing else will really work unless you go to even smaller bulbs than these, but that may not look so good in the fixture. These bulbs come in a few wattages which are somewhat unusual for the size bulb that they are, but usually right for the track fixtures that use them.
R25 flood light bulbs are generally a category of floods that are known for general lighting and not a spot application. In other words, these probably aren't the greatest if you want to highlight a particular object but would rather fill an entire are with light. These are rated at a 2,000 hour lamp life, so they generally have a longer life than some things you might find in a hardware or retail store. They have a medium base which most people know as a regular light bulb base like you have with any standard bulb. This makes it easy to use them almost in any fixture where you use a regular light bulb now. We think that many of these applications that use these bulbs are generally meant for retail distribution. In other words, it would not be generally used in commercial grade track lighting, but it can still be a good choice for that if reducing the size is an issue.
R25 flood light bulbs have a smooth, even light which works for general lighting in a home especially, but can be a way to achieve that in retail lighting too. Sometimes, people have been switching from these to PAR20 halogen which give more light while still working in the same fixture. It's a way to save energy while still delivering the lighting effect you want.
So if you have a recessed lighting or track light application that requires this lamp, then these flood lights would be the answer for you. R25 flood light bulbs might be the ultimate solution where fixtures are tight and you need every little bit of space to get the bulb in. If you have any questions concerning this bulb or any other, please give us a call anytime.