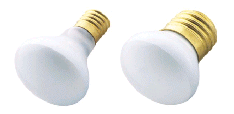 R14 flood light bulbs with two distinct base types.
In the world of small lights, there are floods that can fit into almost any fixture used in display lighting. One of the best bulbs to make possible a good highlight over the last few decades has been R14 flood light bulbs. Like other types of floods, light glass flood lights have been a regular use item for many homes and commercial buildings for many years. This has especially been true in homes that have china cabinets or other kinds of small recessed lighting. It has a 25 or 40 watt rating and comes in three distinctive bases. The bases are medium, intermediate or E17 and European or E14 size. The medium base is the same size as standard light bulb base you use in your home.
These R14 flood light bulbs that can be used in a variety of lighting applications as long as the base matches up to what you have now. One of the most popular applications is curio or china cabinets and a variety of recessed lighting used in furniture of all kinds. One of the reasons that they have a slightly yellow appearance is that they are rated for 130 volt operation and most people in business and in homes are operating on a 120 volt line.
So if you have a recessed lighting application and want to get the proper light, then these R14 flood light bulbs would be the answer for you. In addition to homes, you might need these for replacement in some kinds of commercial lighting displays. Because of it's very small size both vertically and horizontally, it can be put into many places a regular flood light just won't fit. Call us if you have any questions about these lamps or anything else on our web site you see.