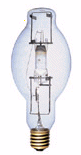 Pulse start metal halide bulbs make your facility more energy efficient.
Energy savings or lighting efficiency is one of those things you constantly hear about these days. With energy costs going even higher, we need to be looking for ways to save energy whether it be in business or in our homes. Fortunately, there are many ways to be more efficient and one of those ways is to incorporate pulse start metal halide bulbs in your plant or facility. What makes these distinctive is the pure, white light that they emit while delivering a high degree of light control. All of the major manufacturers make these and that includes GE, Sylvania, Philips and even a specialty manufacturer called Venture which makes this type of bulb almost exclusively. No matter who makes the lamp, it uses less electricity while maintaining light levels that many building owners and managers need to have for productivity and safety.
There are a couple of choices now in these bulbs which are the older, standard metal halide which have been used for decades and pulse start metal halide which is a more recent innovation. The pulse start versions are the more energy efficient type and give off a more consistent light over time. You must have the right ballast for these types and they're not the same. I mentioned something about color consistent light which is sometimes a problem with metal halides. The color they emit changes over time as the lamp gets older. This can be annoying and you have a couple of choices, either change the bulb when you see the color shift or go to a pulse start version which maintains that color better. There is no way around it, this color shift, that's the nature of the animal, but pulse start metal halide lamps will minimize the effect.
If you plan to change over to the pulse start, then you will also need to change the ballast as well. If you're specifying a new installation, make sure that it's these lamps so you get energy efficiency right out of the gate. All these lights run on a ballast which is required to start the arc itself and then maintain it with the proper voltage. In the past, you could only use a heavy core and coil ballast for these lamps and that's still largely true today, but there are some alternatives coming up. Some companies have developed HID electronic ballasts and sometimes those are used for lower wattage or ceramic metal halide light bulbs. The ballast is critical the the operation for keeping the lamp burning properly, so if the lamp won't light you either have a ballast or component problem like a capacitor that's gone out.
Pulse start metal halide bulbs continue to be specified as a first choice in many lighting installations and the availability is not a problem. If you need replacement bulbs for existing fixtures, we have all brands including Sylvania Metalarc, GE PulseArc, Venture and Philips. If you need new fixtures or ballasts, we have those as well for any kind of commercial lighting application. Call us if you have any questions about these lamps. We stock them in sufficient quantities to meet almost any need that you may have.