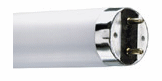 Panasonic F40T10 fluorescent light bulbs for higher light output.
For those of you who have T12 fluorescent lighting and wanted to get more light output, then this is the solution for you. You be surprised by the jump in light output that you'll get along with a better color rendition than you ever thought possible. Panasonic F40T10 fluorescent light bulbs have been on the market for quite a while and there's even some competitors that have made such a lamp for many years as well. There's no standard 40 W light bulb that you'll find that has a higher light up within these. It's great for people who are going to be changing out a complete system, but rather would like to have the kind of light output that they could get without having to make too many changes.
This is probably one of the simplest implementations of new fluorescent lighting that you could possibly have. These lamps work in the same sockets that at T12 does and it operates off the same ballast. Usually that's a magnetic ballast, but it could also be an electronic one too. It doesn't matter and in either case you'll find that the Panasonic F40T10 fluorescent light bulbs are the quick and easy way to get a lot more light in your office or home. The light output is about 3400 lumens which is much higher than the old standard cool white or warm white lamps. One of the other advantages of these Panasonic lamps is that they're available in a 5000 K. version. For those of you who don't know color temperature, that means a full spectrum light. It's made to be like natural daylight. So then the light output will be greater and you get a better quality of light which her eyes prefer.
Panasonic's version was one of the first versions going back to the early 80's and changed the market for better color rendition energy efficiency forever. These are a narrower bulb than the old type T12 which were 1.5 inches wide, the Panasonic F40T10 only 1.25 inch in diameter. Panasonic developed these for greater light output and there are many different brands of ballasts and all function to make the lamp start and continually operate, supplying the right voltage in each individual instance. They give off a great variety of colors and the color rendition is very high. That's why they been the choice of many retailers using them in their stores to highlight product better than anything that's on the market today. If you want to sell more product or portray your product in a better light, then this might be a good solution for many people. We can't overemphasize the difference this makes it a retail lighting situation, it's that good.
With a medium bipin base, Panasonic F40T10 fluorescent light bulbs are a perfect solution to get a correct color onto product in a retail situation or highlighting something in your home. It works in places that most people never thought that they could get a lot of light into. Try a few of these today in those areas where you want to have a special highlight or effect in your home or office. Call us if you have any questions about these lamps. We stock them in sufficient quantities to meet almost any need that you may have.