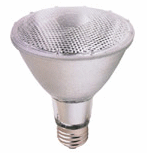 PAR30 full spectrum halogen light bulbs for whiter light like outdoor sunlight.
With the advent of superior daylight halogen technology, PAR30 full spectrum halogen light bulbs from have been one of the more popular types. They emit a whiter light than standard halogen which gives off a wonderful color and light and shadow effect. These lamps are a medium sized flood with 3.75 inches at the opening of the reflector, but they produce a lot of light and have great been control. That's why they been the choice of many retailers using them in their stores to highlight product better than anything that's on the market today. PAR30 daylight halogen light bulbs are the answer for people who want a screw in halogen light source that gives a truer light color than standard halogen lamps.
The lighting applications for the PAR30 full spectrum halogen light bulbs are only limited by your imagination. Most of the time we find people using them in track lighting fixtures, but we've also seen them used in very small recessed lights like eyeball fixtures. The wattages that are available are 50 and 75 watts in Sylvania. Make sure that whatever fixture you're going to use them in is rated to take the correct wattage and match it to the wattage there on these bulbs. In PAR30 full spectrum halogen light bulbs, we believe that the Sylvania brand is also probably the longest life version out on the market today.
Think about areas where you might be able to use this lamp if you want to get more light in a small space. There may be some people who are using the old incandescent R30 lamp. If that is the case, then you can get more light in the same size light bulb package without having to do anything else to your fixtures. They're a perfect replacement for that lamp and sometimes there are even a good replacement for tight fitting halogen lamps of the PAR30 halogen version. Some people think it generates more heat than other lamps, but it doesn't, the thing to keep in mind is the wattage that you're using and what your fixture is rated for.
With a standard medium household base, PAR30 full spectrum light bulbs are a perfect solution to get an intense halogen light onto product in a retail situation or highlighting something in your home. It works in places that most people never thought that they could get a lot of light into. Try a few of these today in those areas where you want to have a special highlight or effect in your home or office. If you are a retailer and have a store, these lamps are great to bring out color and will naturally draw people to the product you're highlighting. Call us if you have any questions about these lamps.