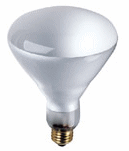 Long life flood light bulbs that save you money by changing them less often.
Longer lasting flood bulbs have been a regular use item for many commercial buildings for many years. Building owners know that changing a bulb less often means greater savings on labor and the hassle of renting expensive equipment for high places. Home owners can now get the benefit of a longer life flood light bulb. These are rated at 10,000 hours which means they'll last about 13 times longer than the average retail store bulb. Long life flood light bulbs come in several wattages and have frosted finish which gives a smooth flood appearance. These flood bulbs also are known as a vibration service or rough service variety as they withstand machine vibration or simply the slamming door in a home. The BR30 size is the exact size of a small standard household flood.
Long life flood light bulbs are generally a category that have krypton gas fill and multiple filament support to protect against vibration and rough service. Many people think that the cost of these long lasting flood bulbs are very expensive, and to be sure they are more money than standard ones. But over their life, they say money over the standard cheap light bulbs that you buy in the store. They generally last 13 times as long as the hardware store types. So if you buy and light fixture from us, make sure that you also get long life flood light bulbs so you won't have to change them as often. They have a medium base which most people know as a regular light bulb base. This makes it easy to use them almost in any fixture where you use a regular light bulb now. So think about all those areas where you have hard to reach fixtures, and use these incandescent long lasting light bulbs instead. For owners who had trouble getting bulbs out of sockets after years of use, you'll find these to be easier when removed. They have a brass base which doesn't get seized in the sockets like regular aluminum base light bulbs do.
We have many variations of long life flood bulbs that can be used in a variety of lighting scenarios. One of the things to keep in mind is that long lasting bulbs are generally lower in light output than standard bulbs. So when you're designing or creating a new interior space, be aware that these will have a lower light output but they will last much, much longer. One of the reasons that they have a more yellow appearance is that they are rated for 130 volt operation and most people in business and in homes are operating on a 120 volt line. So what that means is that the lamp is in getting driven as hard and it will be less susceptible to voltage spikes. This is something that commercial building owners have known for many years. A commercial building has many issues one of them being voltage spikes and another being vibration. Most buildings have a lot of vibration in them and that can cause filaments in the incandescent lamp to shake loose. That means the incandescent lamp you use will have a lower lamp life. So what you're buying is longer life, not necessarily a better light. These are really strictly made to last longer and provide a decent amount of light, but if you're using them in the display or some place that you need to highlight something special, they may not be the best choice.
So if you have a recessed lighting application and want to get longer life than these floodlights would be the answer for you. In both the smaller sizes and the larger sizes all have the same great construction which should give years of service in the average home. You'll actually save money over the years by using these, they actually save you money while delivering a great light.