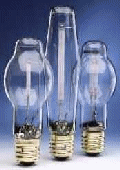 GE Lucalox high pressure sodium light bulbs from BuyLightFixtures.com.
GE Lucalox high pressure sodium bulbs are one of several manufacturers of these highly efficient sources of light. There have been advancements in metal halide technology and high pressure sodium have turned out to still be one of the most efficient lights on the market. This light has a gold white color, although some people would call it yellow at times. Many of the high bay, low bay and security light fixtures we offer online, come with HPS lamps in them, but that choice is up to you. Keep in mind that if you want a really white light, then metal halide would be the lamp to choose. If you're replacing worn out HPS bulbs, then these GE Lucalox light bulbs would be a good choice for your business or even home.
You'll find these in many wattages all the way up to 1500 watts, but many people are using some of the smaller ones like a 70 or 100 watt. These are most often used in multi-housing situations or commercial and home lighting. When the lamp gets old it starts to cycle on and off, which means you need to replace it at your earliest possible convenience. It can burn out the ignitor or even the ballast itself if not dealt with shortly. The ballast is the device in the base which starts the lamp and maintains voltage for lamp operation. There are two different bases, a medium base and a mogul base. The medium base is exactly the same as a standard light bulb base, but that's where the similarity end. GE Lucalox high pressure sodium light bulbs always require a ballast and the right kind of fixture to operate properly and safely. The mogul base is the large industrial base used on mostly the higher wattages, but is also available in the lower wattages as well.
So if you're looking to replace these HPS lamps, we have the stock and the availability you're looking for. Because we have extensive experience in fixtures, we know how these should operate properly. If you need help determining if you should be replacing a bulb or some other component, then please give us a call and we'll give you some friendly help for your situation. GE or General Electric is just one of the quality manufacturers that we make available to you.