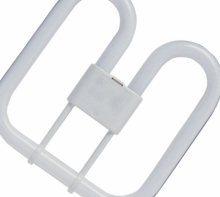 GE 2D fluorescent light bulbs from BuyLightFixtures.com.
The only manufacturer of this form of compact fluorescent is currently General Electric. They developed what was called the GE 2D fluorescent light bulb, and what makes it so great is it's compact size. These lamps lay very flat in a fixture making possible fixture designs proliferate. In the past, many designers had to settle for light sources that would be too wide and would cause the fixture to stand out from a wall too much. This lamp changed all that and was very energy efficient being operated by an electronic ballast. The GE 2D fluorescent light bulbs are a simple square-like shape and are often used in places such as hallways or for general lighting. They are available in 10 watt, 21 watt, 38 watt and the most popular one, 55 watts. They provide long life and a great color rendition meaning that your colors in your home or office will be more natural and vibrant.
Many people have seen these used in hallways and security lighting mostly but they have other applications as well. The unusual shape makes them distinctive and easy to identify. It has a 4 pin connection on the back of the lamp making it easy to make a positive connection to the socket. It has an instant-on capability which means you won't have to wait for light in the space. It's one of the best light bulbs for certain types of lighting applications right now. If you need to have a building be ADA compliant, then choosing fixtures with the GE 2D fluorescent light bulbs would be a good choice.
GE 2D fluorescent light bulbs are a popular item today because of the excellent color that they put out that's perfect for certain applications. Thre are many architects and engineers who will continue to specify this for offices and homes, so it's going to be available for a long time to come. Call us if you have any questions about the GE 2D and any of the options that are available including ballasts for them.