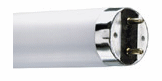 FO32T8 Octron fluorescent light bulbs from Sylvania for office lighting.
There is no more pervasive linear fluorescent in use today than the FO32T8 Octron fluorescent light. It was one of the first versions going back to the late 80's and changed the market for energy efficiency forever. Over the years, many companies have switched to these lamps used with electronic ballasts. Many utilities even offer rebates to get people to convert to more energy efficient lighting they continue to be specified in new fixtures. They have a narrower bulb than the old type T12 which were 1.5 inches wide, the FO32T8 Octron is only 1 inch in diameter. Sylvania developed these for energy efficiency and there are many different brands of ballasts and all function to make the lamp start and continually operate, supplying the right voltage in each individual instance. They give off a great variety of colors and the color rendition is very high. That's why they been the choice of many retailers using them in their stores to highlight product better than anything that's on the market today.
The FO32T8 Octron fluorescent light bulbs are not an exclusive design to Sylvania alone, others like GE and Philips make them as well. There are several color choices these come in which include 3000K, 3500K, 4100K or the 5000k which many people refer to as full spectrum light. There are appropriate places for each type of color. If you need a warmer feel that accent natural colors like wood or plants, the 3000K or 3500K would probably be the best to use. It will maintain and make those colors look even better. For offices, the 4100K has been the most popular as a clean, white light, good for all general purposes. The 5000K is really for people who want to function better under artificial light and this version of these FO32T8 Octron fluorescent light bulbs should work great for those who like natural sunlight. There is also a choice of a 700 series CRI grade and an 800 series CRI grade. The 700 series is 75 CRI and the 800 is 82 CRI which means that it will render color better, both do a good job though.
With a medium bipin base, FO32T8 Octron bulbs are a perfect solution to get a correct color onto product in a retail situation or highlighting something in your home. It works in places that most people never thought that they could get a lot of light into. Try a few of these today in those areas where you want to have a special highlight or effect in your home or office. If you are a retailer and have a store, these lamps are great to bring out color and will naturally draw people to the product you're highlighting. Call us if you have any questions about these lamps. We stock them in sufficient quantities to meet almost any need that you may have.