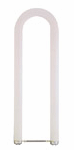 FB40T12 fluorescent light bulbs used most often with magnetic ballasts.
This lamp has been one of the most used u-shape bulbs over the past few decades. They are the older style, less efficient type of u-bent, but still are being replaced on a regular basis by many facility managers. The FB40T12 fluorescent light bulbs have a 6 inch leg spacing which is exactly the same as the more efficient FBO32T8 lamps, making them a candidate for energy saving retrofit. These lamps are a T12 version which is 1.5 inch in diameter and operates on an magnetic ballast. They generally have a wattage rating of 34 watts although some still operate at 40 watts. There are many different brands of ballasts and all function to make the lamp start and continually operate, supplying the right voltage in each individual instance. They give off a great variety of colors and the color rendition is very high if you choose the better grade phosphors.
The FB40T12 fluorescent light bulbs are made by several manufacturers including GE, Philips and Sylvania among others. No matter who the manufacturer is, they are as common in today's buildings in 2x2 fixtures as some linear types. That's because many lighting designers are looking to reduce the size of lights making them less noticeable. But because of utility rebates, these lamps are being replaced at a rapid rate, although these will still be around for a long time as there are so many installations that use them.
As mentioned before, there are several color choices these come in which include cool white, warm white, daylight, 3000K, 3500K, 4100K or the 5000k which many people refer to as full spectrum light. There are appropriate places for each type of color. If you need a warmer feel that accent natural colors like wood or plants, the warm white, 3000K or 3500K would probably be the best to use. It will maintain and make those colors look even better. For offices, the cool white or 4100K has been the most popular as a clean, white light, good for all general purposes. The 5000K is really for people who want to function better under artificial light and this version of these FB40T12 bulbs should work great for those who like natural sunlight.
With a medium bipin base, FB40T12 fluorescent bulbs are a fine way to get a correct color onto product in a retail situation or highlighting something in your home. It works in places that most people never thought that they could get a lot of light into. If you have these and want to save energy, then you might consider the T8 lamps. Of course, you will need to change the ballast to an electronic one as well. Try a few of these today in those areas where you want to have a special highlight or effect in your home or office. If you are a retailer and have a store, these lamps are great to bring out color and will naturally draw people to the product you're highlighting. Call us if you have any questions about these lamps. We stock them in sufficient quantities to meet almost any need that you may have.