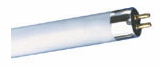 F8T5 fluorescent light bulbs for a smaller light fixture.
The F8T5 fluorescent light bulbs are commonly used in many places where the fixture is very small and sometimes is a task or undercabinet light. The diameter is only 5/8 of an inch and that makes it possible to use the in very small areas where the light source would rather not be seen. There are a lot of applications where a designer once the fixture to stay hidden and out of the way as if the light source comes from almost nowhere. But what's great about these F8T5 fluorescent light bulbs is that it comes as close as possible without costing a lot of money. It's most often operated on a magnetic ballast which has been in use for decades. The small package still creates a lot of light for many types of visual tasks. The F8T5 comes in one length which is 12 inches.
The F8T5 fluorescent is not an exclusive to any manufacturer, all the major lighting manufacturers have made them including GE, Sylvania and Philips plus many other smaller makers. Some of the available colors are cool white, warm white, daylight and even black light. Generally speaking the lower the color temperature, the warmer the color of the lamp, in other words, more yellow. The daylight is 6500K and is to be like natural outdoor daylight, it's a very white color. People use this type of light for SADS and other kinds of ailments sometimes called "winter blues". The warm white color is about 2700K and cool white is 4100K. The 4100K is typically the color used in office lighting.
If you have a fixture that doesn't have the lamp in it and you're unsure about the lamp itself, then open the ballast cover and check the label. All ballasts have a label that identifies what fluorescent lamp is the one for the ballast. The ballast is an electrical device that starts the fluorescent bulb with a higher voltage then goes to a lower operating voltage after the initial start.
F8T5 fluorescent light bulbs are a good solution to get right light into your task lighting and other kinds of small diameter lighting for offices or homes. These aren't the same as the newer T5 lamps which operate on an electronic ballast and are the latest in energy efficiency. Call us if you have any questions about the difference if you're not sure. We stock them in sufficient quantities to meet almost any need that you may have.