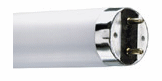 F18T8 fluorescent light bulbs of various lengths.
These are a popular bulbs but are an unusual size fluorescent lamp which has many special applications throughout the lighting industry. It's been primarily used as a vending machine light bulb because of the special lengths it has. Many of these lamps were designed with this type of application hence the various lengths for the same wattage bulb. The length is usually denoted by the number at the end of the description on the bulb itself, such as K26 or K30, something like that. The choice is 24, 26, 28 and 30 inches, but the wattage is the same. F18T8 fluorescent light bulbs come in a cool white color so the bright white stand out in displays.
The F18T8 fluorescent is not an exclusive to any manufacturer, all the major lighting entities have made them including GE, Sylvania and Philips. Sometimes these are available in daylight color, but rarely and we don't stock it that way. Although vending machines and some other types of more obscure lighting have been the main area of application, these were also used in some under cabinet lighting from a long time back. Whatever the lighting application, please note that the ballast is a magnetic one which is specially designed to operate this lamp. If you have a fixture that doesn't have the lamp in it and you're unsure about the lamp itself, then open the ballast cover and check the label. All ballasts have a label that identifies what fluorescent lamp is the one for the ballast. The ballast is an electrical device that starts the fluorescent bulb with a higher voltage then goes to a lower operating voltage after the initial start. That's why they're called ballasts and not transformers which simply change a voltage from one to another. The cool white color is an office standard for the past 50 years. It doesn't have a great color rendition like the lamps of today, but it provides and adequate amount of light with fair color rendering properties. It's probably the least cost phosphor on the market, but because the F18T8 fluorescent light bulbs were never going to be a lamp of the future, no upgrades on phosphors for this lamp were ever made.
With a medium bipin base, F18T8 fluorescent light bulbs are a perfect solution to get right size into your vending machine and some task lighting. Call us if you have any questions about these lamps. We stock them in sufficient quantities to meet almost any need that you may have.