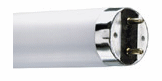 F15T8 fluorescent light bulbs with 18 inch length for many applications.
This lamp continues to be a common one as many retail under cabinet lights still use these. Task lighting is something many people in office across the country are concerned about because it can affect productivity of workers. That's why it's important to buy these with a good color rendering phosphor that has good contrast properties. There are so many applications where the F15T8 fluorescent light bulbs have been used, that's there is really too many to mention. If you have this bulb, it should be labeled like all fluorescents. stamped on the bulb with other pertinent information like color. The F15T8 comes in one length which is 18 inches. F15T8 fluorescent light bulbs come in a cool white color so the bright white stand out in displays.
The F15T8 fluorescent is not an exclusive to any manufacturer, all the major lighting entities have made them including GE, Sylvania and Philips plus many other smaller makers. Sometimes these are available in daylight color and Designer colors from Sylvania. The Designer colors are more expensive than the old cool white or warm white, but consider using them anyway as they will deliver more benefit for you. If you're a retail store, you'll see colors jump out like never before which could translate into more sales. If you have an office, you'll find the a better color rendition and contrast will be noticed by people working there as easier on the eyes. Many time workers report reduced eyestrain especially when working on a computer all day and the back and forth to a desk which can be tiring to your eyes. Some of the available colors are cool white, warm white, daylight, full spectrum Design 50, natural, Design 3000K and Design 3500K. The reason there are so many choices is because of the myriad of lighting applications that use the F15T8 fluorescent light bulbs. Generally speaking the lower the color temperature, the warmer the color of the lamp, in other words, more yellow. The full spectrum Design 50 is 5000K and is to be like natural outdoor daylight, it's a very white color. People use this type of light for SADS and other kinds of ailments sometimes called "winter blues".
Whatever the lighting application, please note that the ballast is a magnetic one which is specially designed to operate this lamp. If you have a fixture that doesn't have the lamp in it and you're unsure about the lamp itself, then open the ballast cover and check the label. All ballasts have a label that identifies what fluorescent lamp is the one for the ballast. The ballast is an electrical device that starts the fluorescent bulb with a higher voltage then goes to a lower operating voltage after the initial start. That's why they're called ballasts and not transformers which simply change a voltage from one to another.
With a medium bipin base, F15T8 fluorescent light bulbs are a perfect solution to get right light into your task lighting and other kinds of lighting for offices or homes. Call us if you have any questions about these lamps. We stock them in sufficient quantities to meet almost any need that you may have.