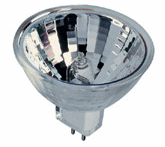 ENX projector light bulbs for many brands of overhead projector equipment.
Probably the most popular projector lamp even made has been this one. ENX projector light bulbs have been made by every major manufacturer including GE, Apollo, Sylvania, 3M among many others. These lamps are made for specific projection tools which give an adequate amount of light and a fully lit screen. These have a rating of 360 watts and 82 volts with a bipin base.
The projectors that use the ENX lamps are the type that you still commonly see used in schools, media centers, libraries, universities and corporate environments. You might think with the proliferation of computer based presentations that these would be declining in demand, but it seems the opposite. As more and more people need reasonable cost presentation, these overhead systems will still be popular. Of course, there are many different manufacturers of these types of overheads, but there are many lamps that are very common to each one. Most of them that we have lists of our web site are some of the most popular ones, ones that you run into on the daily basis. Because there're so many different kinds of uses for these, you'll see all different kinds of wattages used along with various shapes. If you're not sure what lamp that the projector takes, you may want to look inside, there's usually a label that tells which three letter code that you need.
ENX projector light bulbs will continue to be one of the most common types of these lamps. It has a high wattage and at the same time as a reasonable life. So no matter what kind of projector lamps you may need whether it be ENX, FXL, DYS, DYP, ENH or one of the many others, we have the right one for you. If you have any questions please give us a call and we'll be able to help you. You'll like our high quality lamps as they can work with any existing overhead projector that you might have right now.