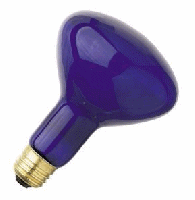 Colored flood light bulbs for many special effects and holidays.
These bulbs have been used for many purposes which include special party affects or used in restaurants, any place a special look is desired. We carry colored flood light bulbs in a variety of colors everything from red, green, blue and amber. The colors have a deep coating which gives off an excellent colored illumination. You'll also find that these colored floods have a great life as they last much longer than standard bulbs that you would buy in a store.
Colored BR30 flood lights are the same size as standard BR30 flood light bulbs, so they can fit anywhere! The deep, rich colors will create the desired effect you're trying to achieve. The lamp is rated for 75 watts so the light output will be sufficient to give a good level of illumination while delivering superior color. People have been using these in recessed cans as well as track lighting. Christmas and Halloween are the most popular holidays for using colored light bulbs. Think about using them outside in recessed downlights around your house to create a seasonal festive atmosphere.
Think about areas where you may use them, outdoors on a patio for a special party effect or possibly during Christmas where you might have red and green colored flood light bulbs in recessed cans around your house. There's also a use for them in retail lighting where you might want to have a special effect to highlight a product or a new service that you have. Almost any way that you can think of to make a special notice something can be done with these colored flood light bulbs. We often see them used in restaurants, particularly the pink color, but also reds and blues, almost anything. There's a lot of use for these also in stage lighting so if you have a production of some kind consider using colored light bulbs to make that special scene a special one. A note to those of you doing stage productions, we also carry black light bulbs which are used to create the illusion of a night sky on a stage. They work very well for that application obviously, so you know that we have many types of colored flood light bulbs that could make a difference in what ever you doing.
Call us if you have any questions about these color flood light bulbs or anything that we carry, we would be happy to help you with friendly, knowledgeable service. Our lighting experts can truly help you with almost any lighting application and make it work for you with our light bulbs or light fixtures. Thank you for for stopping and hopefully shopping with us.