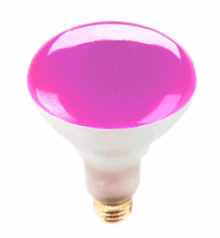 BR40 pink flood light bulbs for recessed lighting in restaurants and hospitality where a more inviting atmosphere is desired.
These 5 inch diameter flood bulbs have been used for many purposes which include restaurant lighting and recessed lighting. It creates a warmer, inviting effect without looking too pink at all. Although BR40 pink flood light bulbs have a true pink color, they aren't overwhelming when lit bringing about the desired effect. So you can have a space which is more pleasing to the eye and more flattering for guests too. You'll also find that these floods have a great life as they last much longer than standard bulbs that you would buy in a store.
BR40 pink flood lights are the same size as standard BR40 flood light bulbs, so they can fit anywhere those do! The lamp is rated for 150 watts so the light output will be outstanding while delivering a superior pink glow. People have been using these in recessed cans as well as track lighting in the hospitality industry as they makes skin tones look more natural. It's a great way to make a room feel more inviting or intimate. That could be great for a homeowner as well when having guests over or trying to change the cold feel of an area, like come kitchens. Almost any way that you can think of to make a special notice something can be done with these BR40 pink flood light bulbs. There's also a lot of use for these also in stage lighting so if you have a production of some kind. The 5 inch diameter of the bulb makes it a complete fill of most recessed lighting cans, making them more architecturally correct.
Call us if you have any questions about BR40 pink flood light bulbs or anything else we carry, we would be happy to help you with friendly, knowledgeable service. Our lighting experts can truly assist you with unbiased ideas for almost any lighting application and make it work for you. Thank you for for stopping today and hopefully shopping with us.