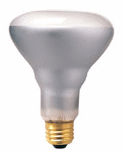 BR30 flood light bulbs with the soft white light you expect.
These floods have been the most popular used in many new construction situations and as replacements for ones that have burned out. The BR30 flood light bulbs are the energy saving replacement for the older style R30. The wattage is commonly 65 watts replacing the 75 watt R30 which was a part of old energy legislation. We actually have them in a couple of different wattages, the popular 65 watt and now the brighter 85 watt version. These light glass flood lights have been a regular use item for commercial buildings for many years. These are rated at 2,000 hours which means they'll last twice as long as the average retail store bulb. BR30 floods come in several wattages and have frosted finish which gives a smooth surface creating an even light. The BR30 size is the exact size of a medium standard household flood with a 3.75 inch diameter across the face of the bulb itself.
BR30 flood light bulbs also come in a longer life version that's 10,000 hours and have krypton gas fill and multiple filament support to protect against vibration and rough service. Many people think that the cost of these flood bulbs are very expensive, and to be sure they are more money than standard ones. But they generally last 13 times as long as the hardware store types saving you money in the cost of replacement bulbs. So if you buy and light fixture from us, make sure that you also get bulbs so you won't have to change them as often. They have a medium base which most people know as a regular light bulb base. This makes it easy to use them almost in any fixture where you use a regular light bulb now.
We have many variations of BR30 flood light bulbs that can be used in a variety of lighting scenarios. One of the most popular applications is recessed and track lights. One of the reasons that they have a slightly yellow appearance is that they are rated for 130 volt operation and most people in business and in homes are operating on a 120 volt line. A commercial building has many issues one of them being voltage spikes and another being vibration. Most buildings have a lot of vibration in them and that can cause filaments in the incandescent lamp to shake loose. That means the standard incandescent lamp you use will have a lower lamp life as opposed to the 10,000 hour versions.
Whichever version you choose, you'll find a greater quality than what you can buy in retail or hardware superstores. We keep sufficient quantities on hand for every recessed lighting need. If you're looking to save even more energy, then you may want to consider a 15 watt BR30 which would reduce energy consumption by 75%. It's a continuing trend that shows no sign of letting up, so call us if you have any questions about those options.