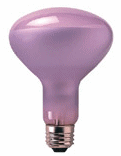 BR30 daylight flood light bulbs to create a true color effect.
It's been an issue for a long time, how to take the yellow color out of incandescent lighting, many people don't like that color. The preference is for natural daylight color which has a whiter, cleaner appearance. That's why there was the development of BR30 daylight flood light bulbs for recessed and track lighting. Like other types of floods, light glass flood lights have been a flexible flood light for many years. Because the BR30 are just the right size for many types of areas including retail and track lighting, that means that people will be able to get the natural color that they want. These are rated at 3,500 hours which means they'll last at least twice as long as the average retail store bulb. Along with longer life, the BR30 bulbs come with a neodymium coating which gives a smooth surface creating an even, white light. The BR30 size is the exact size of a standard household flood with a 3.75 inch diameter across the face of the bulb itself.
BR30 daylight flood light bulbs can be used in fixtures that are in a retail or commercial space as well as your home. One of the most popular applications is recessed and track lighting. This will brighten up those areas and cause people to be drawn to them as it gives off a more natural color. The neodymium coating filters out many of the offensive yellows of standard incandescent light. This is what gives it its clean, white appearance and causes colors of product that you're displaying or an area of your home to have a cleaner appearance. If you're a retailer and you're looking to present your product in a better light, then these would be a good choice for your track lighting or ceiling lighting. It's true that these costs a little bit more than the standard BR30's, but they do so much more for the lighting job itself. The general look of the spaces you light with this lamp will have an improved look unlike anything you've seen before.
So if you have a recessed or track lighting application and want to get the proper light, then these BR30 daylight flood light bulbs could be an answer for you. Call us if you have any questions about the effect of full spectrum lighting in your home or your business. We stock these in sufficient quantities to mean any need that you may have whether large or small.